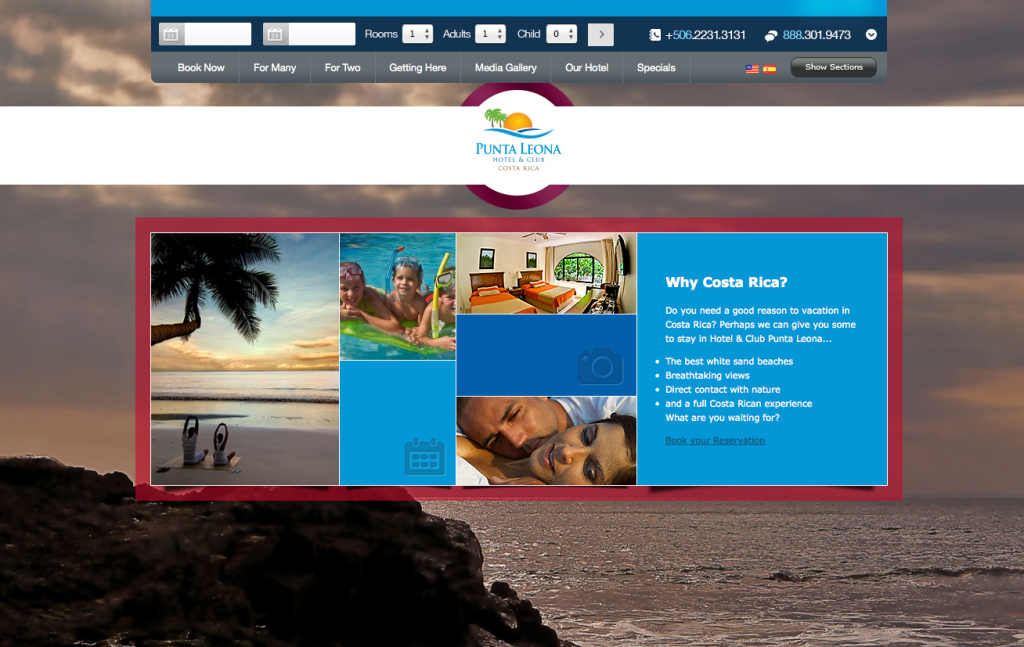 The Hotel Punta Leona used a wide variety of Merkados' extensive tool resources. Merkados completely redesigned their web presence twice, optimized their Search Engine Marketing strategies, provided webmaster outsourcing services, email template design, digital media teasers, banner design, internet marketing strategies, e-customer behaviour analysis, webmaster services on retainer, photography, videography and aerial media services and much more.
In our relationship with the hotel, we increased substantially their number of leads, prospects and reservations. While working directly with Hotel Punta Leona, some of our custom-designed interactive strategies resulted in an increase of more than six figures in direct online reservations in a single year. Through our strategic approach, we were able to solidly increase conversions and to provide an accurate balance between direct reservations and reservations through third party online channels.
Banner Design with Image Manipulation
Some of the banner design that we performed for Hotel Punta Leona included custom image manipulation in Adobe Photoshop Creative Suite. The effective use of image manipulation to create virtual realities can become a powerful asset when designing interactive media and advertising.
Strategic Website Design
The hotel trusted our analysis about the market trends and it paid off importantly for them. We designed a new website that speaks to their audience, that specifically targets their needs and wants and that communicates clearly the strengths of this beautiful hotel.
Finally the hotel's ability to measure their overall performance was firmly established as an asset for years to come.